MENOMONEE FALLS, Wis. – June 28, 2016 – Magnetek, Inc., a leading designer and manufacturer of elevator drives, today announced the presentation of its "Quattro® 1000 Club" award to Schindler Elevator Corporation. The award signifies that Schindler has installed over 1,000 Magnetek Quattro energy saving elevator drives in elevator modernization projects around the world.
"Demand for energy saving systems in our customers' buildings continues to grow," said Bill Lippman, Vice President, Modernization Sales, for Schindler. "That's why our customers continue to select Magnetek's Quattro elevator drives for their properties, now in over 1,000 installations."
Quattro drives, including the Quattro DC, Quattro AC Enclosed, and the Company's latest Quattro product, the Quattro AC Cube, a fully integrated, compact regenerative drive, offer proven energy savings, lower installation costs, and superior ride quality.
"We are pleased and honored to have been able to work with our partner, Schindler, to offer so many of their customers the advanced energy savings, high reliability, and smooth ride quality our Quattro drives provide," said Ed Butte, director of Magnetek's elevator drives business.
For more information, visit www.elevatordrives.com.
About Magnetek
Magnetek, Inc. is a leading provider of digital power and motion control systems used in elevator, overhead material handling, and mining applications. The Company is the world's largest independent builder of highly integrated Energy Engineered® digital motion control systems for high-rise, high-speed elevators. Magnetek is North America's largest supplier of digital drive systems for industrial cranes, hoists, and monorails, and is a leading provider of radio remote controls, motors, braking and collision avoidance subsystems. Magnetek is also a leading independent supplier of digital motion control systems for underground coal mining applications. Headquartered in Menomonee Falls, Wis., in the greater Milwaukee area, Magnetek operates manufacturing facilities in Pittsburgh, Pa., and Bridgeville, Pa., as well as Menomonee Falls.
About Schindler
With U.S. headquarters in Morristown, New Jersey, and Canadian headquarters in Toronto, Ontario, Schindler Elevator Corporation is the North American operating entity of the Switzerland-based Schindler Group. Schindler is one of the leading global manufacturers of elevators, escalators and moving walks. Schindler employs more than 57,000 people in more than 100 countries around the world.
Schindler manufactures, installs, maintains and modernizes mobility solutions for almost every type of building requirement worldwide. The company specializes in latest-technology engineering, as well as mechanical and micro-technology products designed and rigorously tested for comfort, efficiency and reliability.
Schindler supports sustainable urban development with safe, reliable and ecologically sound mobility solutions and its equipment moves more than one billion people every day all over the world.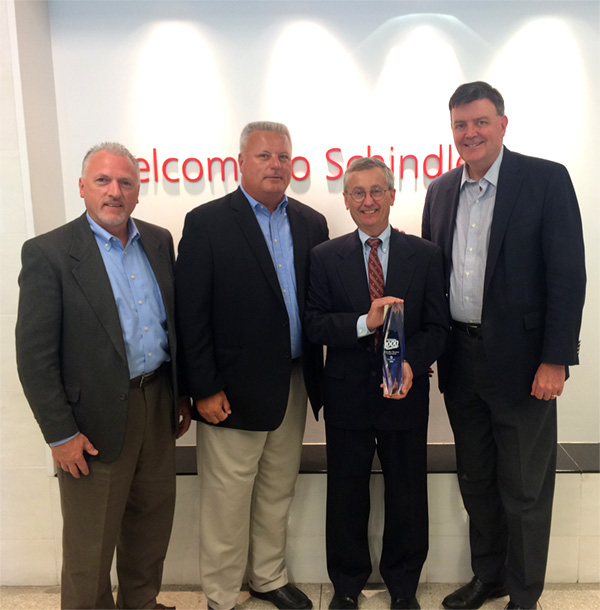 Pictured left to right: Ed Butte, Director Elevator Drives, Magnetek; Mark Wilson, Elevator Drives Business Development Manager, Magnetek; Mark Heckler, Principal Engineer Modernization Support, Schindler Elevator Corporation; Bill Lippman, Vice President Modernization Sales, Schindler Elevator Corporation
Contact:
Ed Butte
Director, Elevator
This email address is being protected from spambots. You need JavaScript enabled to view it.
262.252.2905
Lynn Bostrom
Director, Communications
This email address is being protected from spambots. You need JavaScript enabled to view it.
262.252.2903